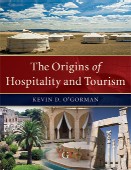 To order see note below
The Origins of Tourism and Hospitality
Written by Kevin D O'Gorman
Consultant Editor: John Cousins
Paperback: 242 pages (2010) Published by Goodfellow Publishers Limited
ISBN: 978-1906884086
This book s about the true origins of the hospitality and tourism industry, and identifies how an understanding of the past can inform modern management practices.
The Origins of Tourism and Hospitality:
presents a detailed and factual account of the origins of the underlying principles and practices of hospitality and tourism

provides a unique and well researched insight into the evolution of hospitality and the roles of 'guest' and 'host' as recognised today
The book is an introductory text for hospitality and tourism studies, and provides a sound foundation for postgraduate studies.
Orders for the book can be made on the Goodfellow Publishers' website here.
The website also gives the details of the book, chapter samples, and PowerPoint presentations which accompany each of the chapters.
Back to publications page